Major Site Redesigns
Gardner Information Design, Inc. offers front-end web development for major website redesign projects.
Case Study: Major Site Redesign
During Spring 2004, GIDI Principal P.J. Gardner participated as a front-end web developer on a major redesign of Staples.com. The redesigned web site was launched July 2005.
The purpose of the project was to convert the previous retail site from a table-based layout to a standards-based, modular design to support more efficient content management.
Staples.com
On this project, P.J. Gardner worked with a team of four other Web developers, creating page templates for a redesign of the Staples.com web site using XHTML and CSS in an IIS environment (later converted to JSP).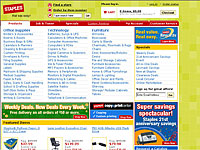 .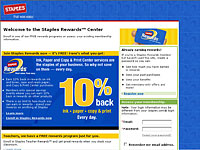 Visit the current Staples web site:
Note: The Staples web site has since been redesigned. The examples on this page no longer match the current version of the Staples web site.
Required Skills
Skills employed on the Staples.com website redesign project included:
Hand-coding XHTML and CSS using Macromedia HomeSite (now the code view of Adobe Dreamweaver).
Building web pages and page templates for dynamically generated content.
Adhering to detailed design specifications developed by the web team leads.
Matching precise page comprehensives developed by the visual designers.
Testing web pages for cross-browser compatibility and ensuring consistency with strict in-house standards.
Structuring and maintaining the source control library.