Fast-Paced Web Development
Gardner Information Design, Inc. offers fast-paced front-end web development for contract and freelance projects.
Case Study: Fast-Paced Web Development
In 2008 and 2009, GIDI Principal P.J. Gardner worked as a freelance front-end web developer for the Interactive group at Cramer (www.cramer.com), a digital marketing and event solutions agency.
Most of Cramer's web development work is confidential, but the following samples provide a glimpse at the type of work required in this rapid-paced development environment.
Cramer
P.J. Gardner created over two dozen web sites, microsites, HTML emails, prototypes, and application templates for state-of-the-art marketing campaigns for Cramer clients in a highly interactive and creative environment.
The front-end development of most of these projects was turned around in less than a week.
Disclaimer: Live web sites are always subject to change. The examples on this page may not match the current versions.
Video Microsites
Several Cramer projects involved building small web sites that integrate videos or Flash players.
The following example is the framework for Cramer's own Video On Demand series.
Visit the live site to learn more:
The Video On Demand prototype includes three similar templates. Download a PDF file to learn more about Cramer's Video On Demand (vBlast) products:
Web Site Refreshes
A few projects involved "re-skinning" a web site and changing its look and feel, often using a content management system.
This project represents the 2008 revision of ThisIsCable.com for Cable & Telecommunications Association for Marketing (CTAM):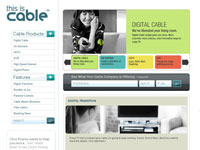 .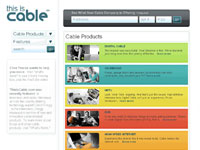 Visit the current This Is Cable website:
Online Newsletters
Another type of project for Cramer was the creation of marketing newsletters.
The ViaCord Connections™ Winter 2009 newsletter consisted of seven related pages and a matching promotional email: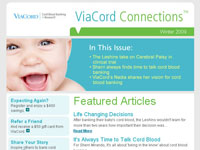 .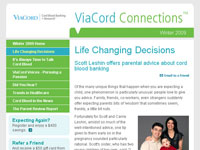 Visit the client's web site:
Email Promotions
A major portion of the work at Cramer consisted of creating HTML emails for email marketing promotions for both Cramer clients and Cramer itself.
These ViaCord examples represent a typical client email project: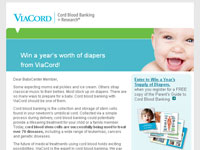 .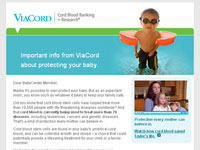 A current email promotion connects to the client's blog:
These Cramer examples represent the templates for the 2008 and 2009 versions of Cramer's own webcasting series:
Visit the Cramer web site to learn more:
Required Skills
Skills employed on Cramer rapid development projects included:
Working in close harmony with project managers, visual designers, information architects, other front-end web developers, back-end programmers, and Flash developers.
Constructing web sites, web pages, and HTML emails using XHTML and external cascading style sheets.
Building web pages and page templates from Photoshop layouts developed by visual designers.
Creating HTML emails that work across a wide range of email programs.
Ensuring accuracy of client content with project managers, copywriters, and proofreaders.
Incorporating Flash videos and JavaScript routines developed by other members of the team.
Working in Windows, .NET, and various content management environments.
Testing web pages for cross-browser compatibility and ensuring consistency with W3C standards.