Accessible Web Design
Gardner Information Design, Inc. builds accessible web sites for its enterprise clients and small business website customers.
GIDI principal P.J. Gardner is a recognized expert in accessible web design, particularly the U.S. government's Section 508 accessibility standards and the World Wide Web Consortium's Web Content Accessibility Guidelines.
P.J. holds a graduate certificate in Accessible/Interactive Web Design from Northeastern University, and she is the founder of Boston-IA.org, an organization "Making Internet Acessibility Mainstream".
Note: For more information about GIDI accessibility expertise, visit P.J. Gardner's Contract Resume and Professional Profile.
GIDI creates clean, accessible, standards-based web designs. These samples demonstrate our specialty in accessible web design.
Accessible Web Applications
P.J. Gardner continues to contribute accessibility expertise on web application projects for financial services, healthcare, and information technology companies, as well as government agencies and non-profit organizations.
In 2008, P.J. Gardner functioned as the Accessibility Lead, front-end web developer, and user interface consultant on a year-long project to redesign the Massachusetts Accessible Housing Registry as an accessible web application.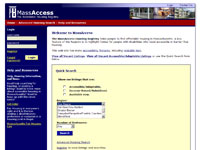 Visit the following page for a case study about this project:
Accessibility Web Sites
Since 2003, P.J. Gardner has built several dozen accessible web sites.
Visit the following sample web sites built by Gardner Information Design, Inc. that demonstrate a focus on accessibility:
Learn more about these projects by visiting the live web sites: